Greene Fire has been operating in the fire engineered solution market within Australia since 2000, specialising in delivering fire curtain and smoke curtain solutions.
More recently our experience in delivering engineered solutions has expanded to offer fire shutters, fire rated glazing and smoke ventilation.
We are the exclusive distributors for McKeon Door, the only manufacturer in the world to offer standard swing egress doors in their fire rated wide span opening protectives. With 31 different fire rated assemblies, there is a solution to fit almost every building type and design constraint.
FireMaster Concertina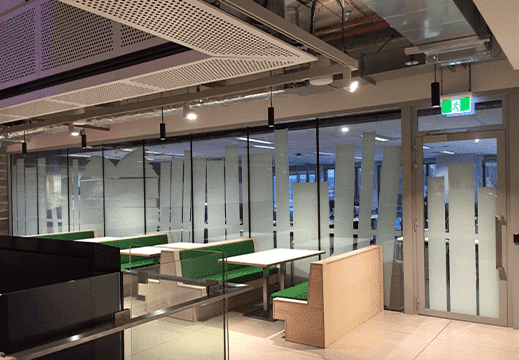 Fire Rated Glass Wall
Find Your Solution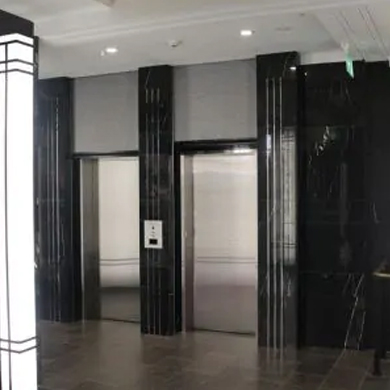 Applications
Which solution best suits your application?
Our Applications directory will help you to find which solution will be most suitable for your application.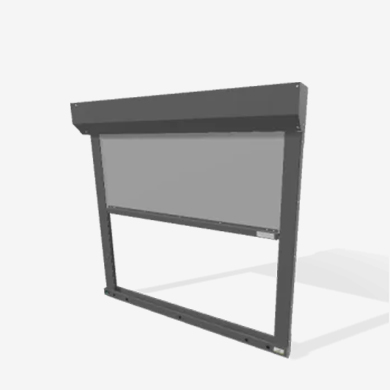 Products
Know exactly which product you need?
Our Products directory will help you to find more information surrounding the product you require.
What We Offer

CPD Seminars
We provide Free CPD Seminars that cover various topics including Understanding Fire & Smoke Curtains We provide Free CPD Seminars that cover various topics including Understanding Fire & Smoke Curtains

Technical Advice
Greene Fire's service technicians have the expertise to conduct the necessary fire curtain maintenance for your property or facility.

Maintenance
Our routine fire curtain service is completed in full accordance with AS1851-2012 and manufacturers' recommendations.

Installation
We have many highly trained technicians which will ensure that your fire safety systems are installed and functioning at their maximum capacity.
Invisible Solutions Visible Protection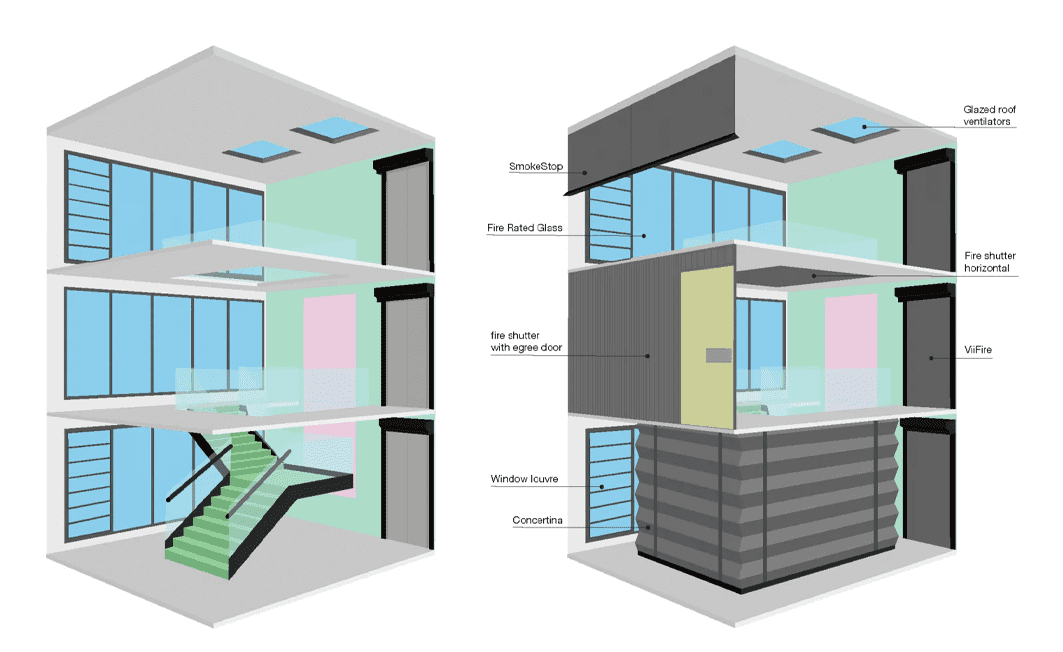 Our Case Studies
We have completed work all over Australia and New Zealand, providing high quality fire safety systems enabling designers to create the architectural masterpieces which exist today. Our fire safety solutions are an innovative way to create space whilst complying to the building code. See below for some of our key work including our smoke protection measures at the Sydney Opera House, The largest concertina curtain in the southern hemisphere at Monash University or one of our many residential and domestic projects.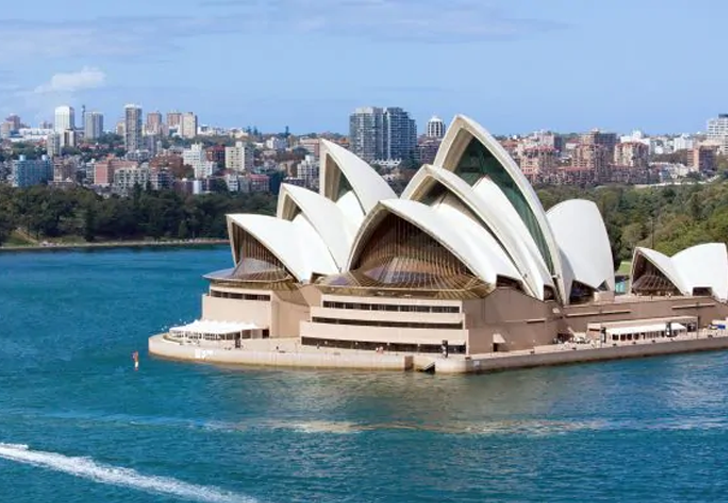 SmokeStop – Sydney Opera House, NSW
Greene Fire's SmokeStop™ smoke curtains were used in conjunction with improved detection and mechanical air handling systems to manage the smoke in these theatres in a fire event.
FireMaster Horizontal - Newacton Nishi, ACT
Environmentally friendly low energy NVS Horizontal Fire Barriers. With the Department of Climate Change and Energy Efficiency the anchor tenant for this development, achieving an environmentally friendly fire protection plan was a priority for the client.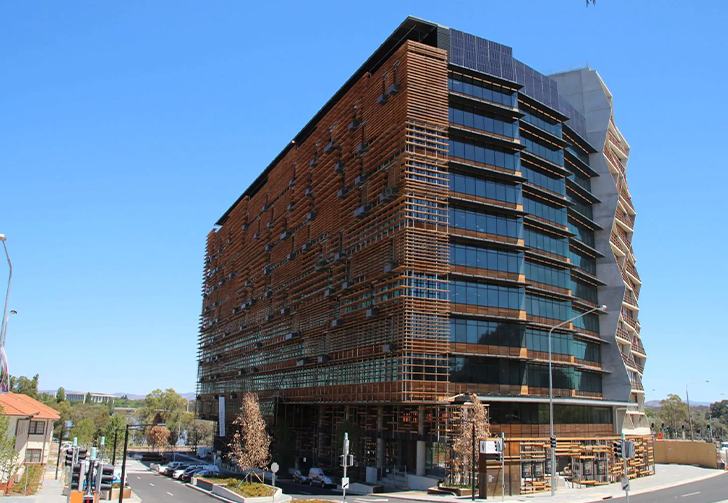 Our Latest Blog

Introducing Aluflam Australia
Greene Fire, a specialist in fire protection products for buildings and construction, announces the opening of its aluminium fire rated glass doors and windows manufacturing facility in Melbourne, Australia. Greene Fire manufacture Aluflam products under the trading name of Aluflam Australia.
Both Greene Fire and Aluflam have worked together closely over the past 5 years to complete several projects in Australia. These projects have required considerable time and planning due to the custom-made designs being manufactured in Europe and shipped into Australia, usually on long 16+ week lead times.
"Looking to local manufacture is an obvious step to be able to meet our customer's needs. The construction industry struggles with long lead times and non-standard items, so as our products become in more demand, we need to invest in delivering faster. We have done the same with our fire curtains, so we have experience in doing this." said Clinton Greene, Greene Fire's Director.
The unique and patented design of the Aluflam system provides the building industry in Australia with fire rated systems made from thermally broken aluminium joinery, something that is normally expected to be made in steel or timber. Windows, doors, partitions, facades, floors and skylights can be manufactured with fire ratings up to FRL -/120/120.
Aluflam produces high end fire rated products, and supplies all over the world, both onshore and offshore. It was therefore important to us that we have the right partners. We have had a fantastic collaboration with Greene Fire over the last 5 years and when we decided to start production locally in Australia, it was natural to enter into a partnership with Greene Fire. Greene Fire fully meets the same high standards of quality control, customer satisfaction and has been able to adapt our products to the Australian market." says Peter Birck, CEO and Founder of Aluflam Group.
The Aluflam products have been designed to the highest specification for commercial buildings. There is no compromise to the architect's design. These beautiful windows and doors have been used in residential and domestic housing with new products coming soon, specifically for the Australian bushfire market.
More information can be found at www.aluflam.com.au or on LinkedIn www.linkedin.com/company/aluflam-australia
About Greene Fire: Greene Fire is a family owned and operated business established in Australia in 2000. We pioneered fire and smoke curtains within Australia and more recently our capability in delivering engineered solutions has expanded to offer fire shutters, fire rated glazing, bushfire solutions, MicroLouvre, glazed louvres, along with several non-fire rated solutions.
About Aluflam: Aluflam is a family-owned business that was established in Denmark in 1943 with more than 25 years of experience in fire-rated glass and aluminium construction. We offer a wide selection of fire-rated constructions, from fire-resistance classes E15 to EI120 such as facades, windows, doors, sliding doors, skylights and glass roofs. Our designs range from standard to more complex, specially designed systems.
Introducing Aluflam Australia.
Associations and Certificates

Sydney
Contact Our Sydney Office For: NSW, ACT, QLD, NZ, International
Address
PO Box:
PO Box 688, Caringbah NSW 1495
Phone:
Melbourne
Contact Our Melbourne Office For: VIC, SA, TAS, WA, NT