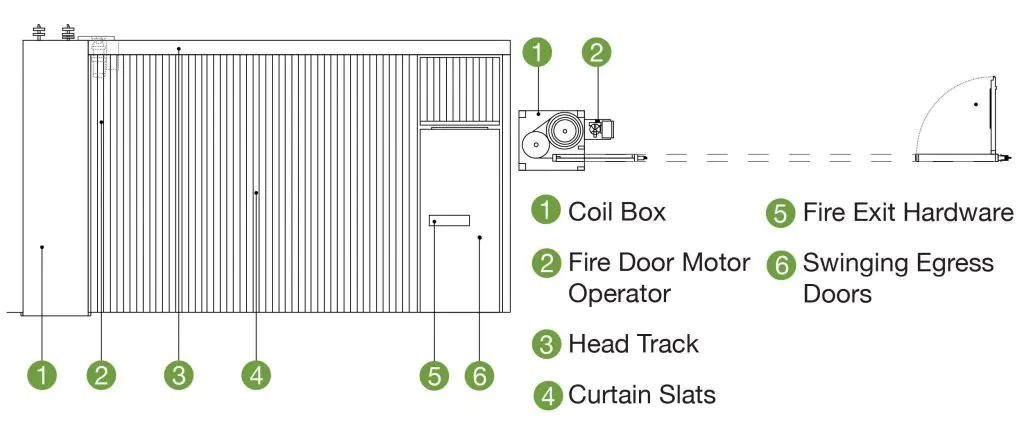 Ratings
Up to 3-hour rated to UL 10B. Smoke & Draft labeled UL 1784.
Egress
Single or multiple fixed complying egress doors available in the S9000 series when required.
Finishes
McKeon Sterling Gray. Powder coat. Stainless steel.
Head Track
Only 175mm high and 40mm wide. Can navigate curves of 900mm radius.
Floor Track
Only required dependant on height, swing door placement and building pressures. Consult with Greene Fire for advice. 38mm high with a 5mm operational slot, with removable cover plate to allow for cleaning.
Benefits
Uses very narrow head track where there is low ceiling space
Shutter coils up in a small rectangular shape coil box
Head track does not need to be straight and can follow unique ceiling designs
Floor track not necessarily required
Does not require the side pocket to be the full width of the door or for it to be in the same line as the door
Learn More
For Further Reference please read the documents provided below. If you wish to obtain further information regarding our Fire Attenuation Screens in Sydney, Melbourne or any other major Australian city, please contact us at (02) 9526 3100, or email us at sales@greenefire.com.au.Alternatively, you can speak to us in person at Greene Fire Pty Limited, find your local office here.