WALK THROUGH SMOKE CURTAIN CONSTRUCTION
Each smoke curtain has at least 2 rollers with each approximate 600mm wide fabric panel alternating between rollers. The rollers are positioned 'side by side' and deploy through the centre of the head-box. Metalwork is zinc coated mild steel. This can be painted on site or powder-coated to DULUX or RAL colours.
OPERATION
A 24v electromagnetic brake holds the fire curtain open. Closing is by gravity at a controlled speed of 0.06 – 0.15m/s. Opening is driven by one or more 24vDC tubular motors mounted within the barrel. Once deployed, people can easily pass through the overlapping smoke fabrics. The smoke fabrics self close. Test is performed by a simple key switch operator. The system is reset manually by pressing the reset button on the control panel. Automatic reset is available.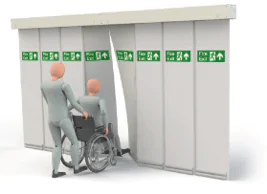 BOTTOM BAR
Each fabric panel has a soft bottom ballast bottom detail for a soft edge which will not hurt people evacuating.
SMOKE PERFORMANCE
Leakage tested to EN12101-1 Annex C
LEARN MORE
For Further Reference please read the documents provided below. If you wish to obtain further information regarding our Smoke Ventilation Systems, please contact us at (02) 9526 3100, or email us at sales@greenefire.com.au. Alternatively, you can speak to us in person at Greene Fire Pty Limited, Unit 2 7-11 Parraweena Road Taren point, NSW 2229