Insulated Horizontal Fire Curtain Construction
Two types of horizontal curtain; the Simplex and Duplex. Both the Mini Simplex and Simplex close from one end to the other. The Duplex is used for much larger areas and closes from each end of a void to meet and close in the middle. Each roller is up to 4m wide with a 10m draw. Metalwork is zinc coated mild steel. This can be painted on site or powder coated to DULUX or RAL colours.
Operation
It remains concealed usually within the ceiling or floor space and is activated from the fire detection system. When action is completed, the curtain horizontally closes automatically. The leading edge of the curtain fabric has a special pre-tensioned support bar spanning the opening which runs in the side channels where the curtain fabric is retained. On alarm activation, the barrier is driven by tubular motors to the closed positions using steel pull straps which are concealed in the side guides. Test is performed by a simple key switch operator. The system is reset manually by pressing the reset button on the control panel. Automatic reset is available.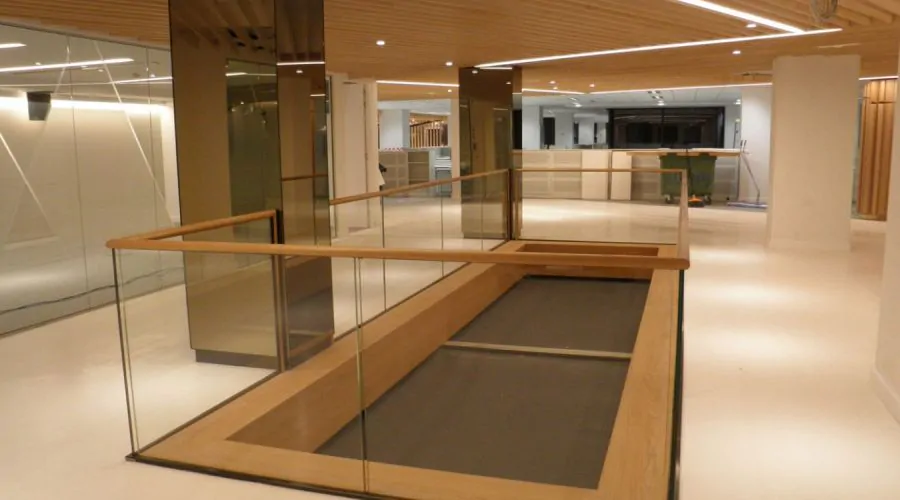 Benefits
Allows for designs to create openings in floors within a building
Can remove the requirement for atrium provisions from the building code
Reduced cost when compared to vertical fire curtains if the void opening spans many floors
Clear open void without support wires
Learn More
For Further Reference please read the documents provided below. If you wish to obtain further information regarding our Fire and Smoke protection, please contact us at (02) 9526 3100, or email us at sales@greenefire.com.au. Alternatively, you can speak to us in person at Greene Fire Pty Limited, find your local office here.