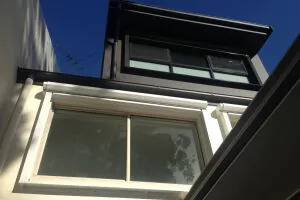 Compact Fire Curtains
Looking for a DTS solution which can be seamlessly designed into your building plan or retro-fit to an existing structure? With narrow profiles, small headbox and fusible link deployment, our ViiCabin solution is a design friendly system which ensures performance.
Fire Resistant Glazing
Protect your building with Australia's only Fire Rated Glass system with Aluminium Framing. This is DTS solution can be installed externally with our ClimaPlus technology preventing the window from becoming opaque over time like many other solutions on the market.
MicroLouvre
Our MicroLouvre Attenuation Screen is the most cost effective boundary protection solution available and provides multiple additional benefits. This system has additional uses including solar shading, light control and ember screening whilst maintaining an industry leading 80% open area. This solution requires a Fire Engineer to specify.