Smoke Safety: Understanding Smoke Curtains And Smoke Leakage
During a fire, most consider the flames to be the biggest risk for loss of life. However, it is the smoke that presents the greatest risks, as most fatalities are caused by smoke inhalation and not by the actual fire itself. Additionally, reduced visibility due to smoke may make it difficult for occupants to identify and follow exit paths for safe evacuation. A correctly designed Smoke Control system is critical for the safety of occupants in any building.
SMOKE BAFFLES OR SMOKE CONTAINMENT
A number of key solutions are used within building design to combat the problems associated smoke zones and compartmentation prescribed by the BCA. These can include smoke baffles and/or smoke containment systems, however there are subtle differences between the two systems with varying products available on the market.
Smoke Baffles
Smoke Baffles are non-combustible products (such as glass, plasterboard bulkheads or smoke curtains) that create a smoke reservoir with an intention to keep the smoke layer above head height to aid safe, unobtrusive evacuation.
The advantage of using Smoke curtains is the flexibility. With a smoke curtain there are two options: i) a fixed smoke curtain baffle (mostly seen in industrial buildings) which is light weight and less prone to damage than glass or ii) a hidden, automatic drop-down smoke baffle which, when not in alarm, is completely invisible. This is very suitable to residential and commercial projects.
Smoke curtains, used as automatic drop-down baffles are usually installed at high level and drop down to a pre-determined height to channel heat and smoke via extraction fans to specific extraction points, as part of a smoke control system. Often, side guides are not required so long as the fire engineer has taken into consideration any possible smoke leakage at the sides (and/or headbox) and is aware of any high pressures across the curtain causing the fabric to deflect.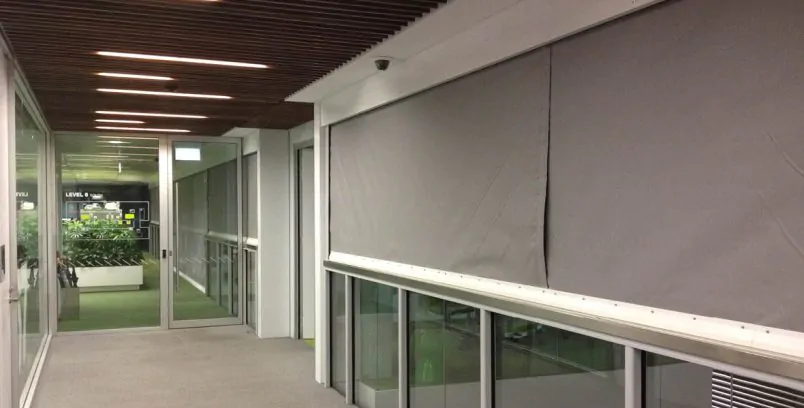 Smoke Containment Curtains
Smoke containment curtains generally have side guides to create an efficient smoke seal. If the smoke curtain is not within an exit route then a typical full height drop down smoke curtain can be installed. Lift shafts and lobbies are a very typical area within a building that will require a sealed unit using guides that may even contain smoke seals within them. Many buildings may also require dual purpose compartmentation with egress. Modern smoke curtains now contain options for soft surface egress doors, eliminating the need for separate exit doors. During a fire event, occupants may pass through the curtain to the shortest path to safety, with the curtain closing safely behind them. However, a critical element to consider in the design of such a system is air or smoke permeability and smoke leakage.
SMOKE LEAKAGE
As there is no specific Australian design guidance for Smoke Curtains, designers should consult the European Standard EN12101-1:2005 – Smoke and heat control systems – Part 1: Specification for smoke barriers. This standard provides everything from performance requirements to evaluation of conformity and is a required starting point for all designers using smoke curtains.
EN12101-1 also specifies the maximum acceptable amount of smoke leakage at the edge of a smoke curtain to ensure that any opening allows only minimal amounts of smoke to pass through. Whilst the designer can specify to minimise gaps down to 0mm, maximum permissible gaps between a wall and smoke curtains are based on the height of the curtain and can be as follows: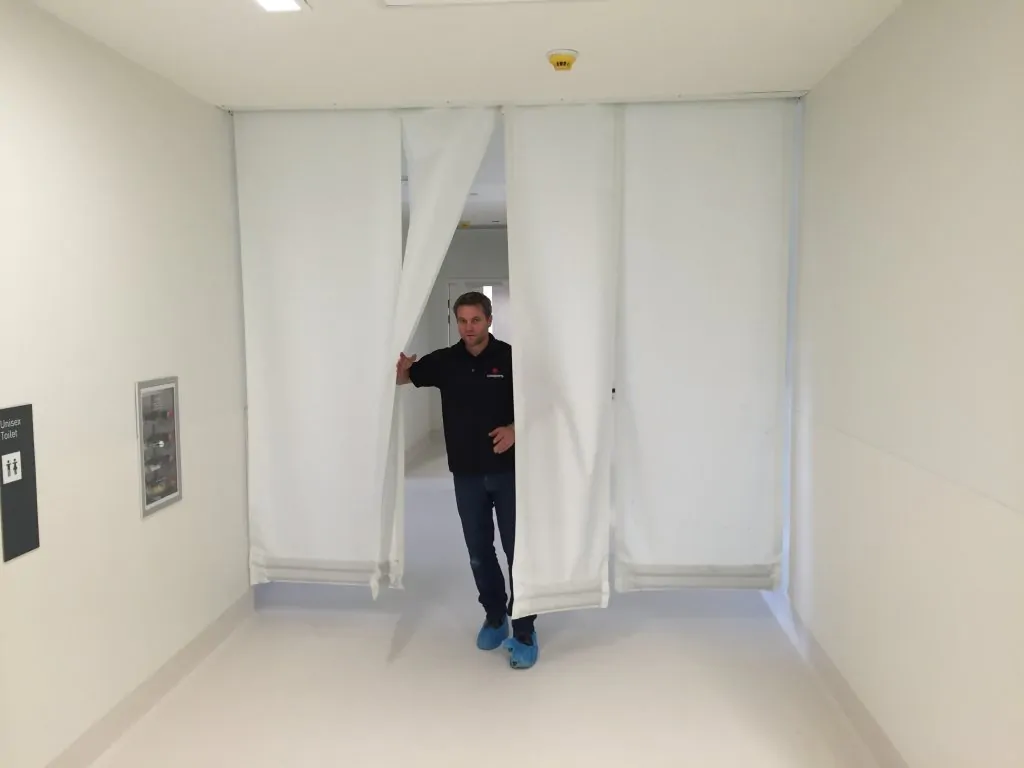 No more than 20mm where the curtain is less than 2m tall
No more than 40mm where the curtain is between 2 and 6m tall
No more than 60mm where the curtain is taller than 6m
Key considerations are: Gap at head, Gaps at edge, Gaps at joints and any enlarge gaps caused by defection, as all of these items can reduce the effective smoke layer height. Section E.5 of the guidance provides the calculation formula for this to enable designers to calculate any possible smoke leakage.
If you wish to obtain further information regarding our Fire Safety Products, please click the products tab provided or click here. For further information please contact us at (02) 9526 3100, or email us at sales@greenefire.co.nz.
Alternatively, you can speak to us in person at Greene Fire Pty Limited, Level 2 381 Port Hacking Road Caringbah, NSW 2233