BUSHFIRE PROTECTION
The MicroLouvre ember screen incorporates specially angled paper thin bronze louvres. The innovative louvre design prevents flame penetration from ember attack and burning debris. Testing was performed with industry leading results at the CSIRO. As the louvres are spaced 1.49mm apart, the MicroLouvre ember screen provides protection to AS3959 up to BAL-FZ! A MicroLouvre ember screen can provide complete solar shading and fire protection of a whole window up to BAL-19.
WHAT ARE BUSHFIRE PROTECTION MEASURES?
Due to the high risks associated with living in a bushfire prone area, building requirements have been designed to ensure your maximum safety in the event of a fire. These requirements vary dependent on your bushfire attack level (BAL).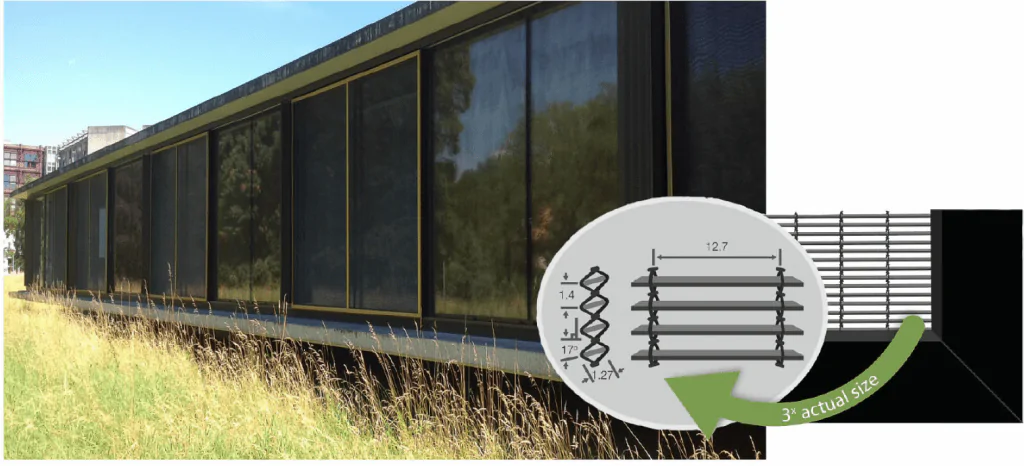 BE COMFORTABLE IN YOUR OWN HOME
The industry leading MicroLouvre technology is an ideal addition to homes within any setting. The specially angled louvres of MicroLouvre can reduce the temperature in your home by up to 10ºc in summer! This is done by stopping the heat before it reaches your window. With the louvres at a 17º angle, MicroLouvre provides complete shading when the sun is at its hottest. MicroLouvre has twice the open area of most other screens. this makes MicroLouvre almost invisible from the inside giving perfect outward vision.
Learn More
For Further Reference please read the documents provided below. If you wish to obtain further information regarding our Fire Attenuation Screens, please contact us at (02) 9526 3100, or email us at sales@greenefire.com.au. Alternatively, you can speak to us in person at Greene Fire Pty Limited, Level 2 381 Port Hacking Road Caringbah, NSW 2233
Benefits
Compliant bushfire screening up to BAL-40 and BAL-FZ
Reduces the internal temperature near windows by up to 10ºc
save up to 60%on airconditioning costs
near perfect visibility
80% open area allowing natural light and ventilation
up to 100% shading at sun angle of more than 40º
Highly durable and weatherproof
Capable of withstanding wind speeds of 190km/hr
Insect and pest protection
Very light weight and easy to install