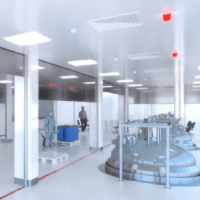 Introducing The Worlds First Fire Curtain Designed For Cleanrooms
We are proud to announce the Australian release of Coopers fire's FireMaster Cleanroom. This innovative and revolutionary product is the world's first fire curtain that is certified as suitable for all types of cleanroom settings.
The FireMaster Cleanroom provides 2-hour fire protection achieving an FRL of – / 120 / 120. This allows for designers to create vast open spaces which are highly desired, however previously unachievable due to stringent building requirements and the lack of versatile products on the market.
WHAT IS A CLEANROOM?
Typically used in manufacturing or scientific research, a cleanroom is a controlled environment that has a low level of pollutants such as dust, airborne microbes, aerosol particles, and chemical vapors. This is usually specified by the number of particles per cubic metre at a specified particle size.
For use in cleanrooms all materials must be non-shedding and non-absorbent. Ledges, cracks, crevices and inaccessible places which gather dust and are difficult to clean must be minimised as far as practical. All exposed surfaces must be compatible with and easily cleaned with common cleaning and disinfectant chemicals routinely used in hospitals and biological research facilities.
A classic use of cleanrooms has been in scientific laboratories and research facilities. However, these Cleanrooms are becoming more and more prevalent as technology grows. A common use of cleanrooms is in the development of our mobile devices such as phones, laptops, camera's, etc. These devices utilise small components such as microchips and lenses. As these components are so small and require such intricate and precise development, a small speck of dust could render a microchip ineffective. A cleanroom would be required in order to ensure that the component is developed correctly without any damage.
APPLICATIONS OF THE FIREMASTER CLEANROOM
The FireMaster Cleanroom is a fire curtain which can be used to replace non-load baring walls, doors, and windows creating a vast open space whilst maintaining compartmentation. As the curtain has achieved 2 hours of heat insulation, this product is also used to protect escape paths allowing time for individuals to escape. They can also offer property, equipment and external boundary protection.
HOW DOES IT WORK?
The FireMaster Cleanroom is manufactured from 316L grade stainless steel suitable for use in a cleanroom environment. The FireMaster Cleanroom features a stainless-steel curtain that does not release particles in operation and features side guides that can be manually opened and closed for cleaning.
The curtain remains hidden within its headbox until deployment. Once deployed the curtain lowers via gravity at a controlled pace of 0.06 – 0.15m/s until it completely seals the opening. Once sealed the curtain prevents fire spread throughout a building, and between buildings. The headbox and side-guides have been specifically designed in order to allow easy access for cleaning and maintenance.
TESTING AND CERTIFICATION
The FireMaster Cleanroom has been fire tested as part of Exova Warrington's CERTIFIRE scheme. Additional tests for cleanroom suitability were also carried out in Germany at the Fraunhofer Institute for Manufacturing Engineering and Automation. The Fraunhofer TESTED DEVICE® is an internationally renowned certification mark for products that have been objectively qualified in accordance with recognised standards and guidelines with regard to their cleanroom.
The FireMaster Cleanroom is certified as suitable for use in cleanrooms fulfilling the specifications of Air Cleanliness Class 6 according to ISO 14644-1. It has a Class C rating under the pharmaceutical industry's Good Manufacturing Practice (GMP) standards; and is rated at 1,000 under US Federal standard 209E.
The chemical resistance of the curtain and headbox and side guides is tested according to ISO 4628-1. It is fire tested to BS EN 13501-2:2007+A1:2009 to provide an Integrity rating of E120 and EW120 for radiation.
Learn More
To learn more about this solution, visit out FireMaster Cleanroom Product page. Alternatively you can give us a call at (02) 9526 3100, or send us an email at .