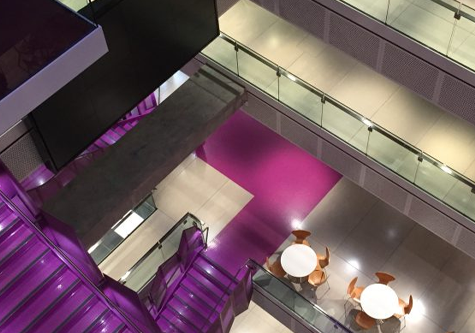 Creating Space with Passive Fire Protection
Large open spaces are a desired feature of any building within today's design scope. However, open plan designs are often challenging featuring numerous safety issues. Open rooms often involve the removal of non-load bearing walls which often act as a fire barrier which compartmentalizes a room or corridor.
The removal of such a wall means there is no longer a barrier in place to stop, slow or prevent the spread of a fire or accompanying toxic smoke. Consequently, designers and architects have difficulty reconciling open space plans with fire safety regulations. Current regulations state that all properties must not only provide occupants with a clear and effective means of escape but also where required, provide a way of restricting a fire in order to contain the spread.
This is proving a problem: Open space designs are necessary for the functionality of many public and commercial spaces and rising in popularity in many domestic settings.
How can this issue be resolved?
Fire Curtains and smoke curtains are solutions which can be used as they are able to compartmentalize a room, corridor or space and offer reliable boundary protection. This has allowed designers to replace non-loadbearing fire walls and doors, fire doors, fire rated glazing, and sprinklers to achieve modern and safe open plan environments.
Fire curtains and smoke curtains are, as their names suggest, curtains that prevent the damage and threat from heat and smoke in the event of a fire. The role of a fire curtain is to segregate a fire in a building or large room, allowing successful evacuation of the space. This makes them an ideal solution for public properties that feature large, open rooms.
The curtain is hidden within a small headbox which can be designed into a structure and hidden from view. Alternatively it can be retrofit into a building either face fixed to a structure or hidden in the current structure (assuming space is available). The curtain will remain retracted within its head box until it is automatically activated by the fire alarm signal. Once activated it will completely close the opening, creating a fire and smoke compartment. Deployment is by gravity at a controlled speed of 0.06 – 0.15m/s. In the case of a power failure the curtain will automatically deploy, ensuring that compartmentation will be guaranteed in any scenario.
Forms of Fire curtain systems.
There are various forms of fire curtains available, each with unique capabilities. We provide standard vertical fire curtains, horizontal fire curtains, concertina fire curtains, and compact fire curtains.
The most common fire curtain we provide is our FireMaster vertical fire curtain. This system can come as insulated and non-insulated. It is primarily used to replace non-load baring walls and provide fire separation between rooms. A good example of this would be our 'The Hub, Martin Place' project. this project utilised multiple fire curtains to create an open office space. The curtains were used to separate spaces ensuring escape paths were not at risk of fire spread.
Our FireMaster Horizontal fire curtain can be provided with insulated and non-insulated options. It is primarily used as a solution preventing fire spread between levels. 1 horizontal curtain can replace the need for multiple vertical curtains. An example of this solution in action would be our project at 'Lend Lease, Barangaroo Tower 3'. The designer of the building wanted voids on levels 11 and 18, however this was required to have fire separation. Horizontal curtains were used to allow these voids to be created.
Our FireMaster Concertina is the Rolls Royce of our fire curtain systems. This system utilises a pleated curtain, based off the design of the concertina instrument. This design allows the curtain to be made into any shape that is required, allowing for a guide-less fire suppression system. An example of this system in action is our 'oil search' project. This project required protection surrounding a circular inter-tenancy staircase. Our concertina was design in circular shape with 18 sides, completely sealing the opening.
Our ViiFire range of products are compact fire curtains which can be provided as insulated or non-insulated solutions. These systems come as plug and play systems which can be easily retro fit to any structure. These solutions are primarily used in boundary protection, fire separation for elevators, and many more. An example of our ViiFire system would be our 'Juntion 24, Victoria' Project. This project required boundary protection due to its close proximity to the property boundary. ViiFire systems were used on all external openings, satisfying the requirement for a -/60/- fire rating.
To learn more about how our solutions can be your solution to having a wide open space, visit our product pages for more in depth information on our range of fire and smoke curtains. Alternatively you can read our white paper 'optimizing passive design' for another look at how passive design is the future of design.