Project Summary
FireMaster Concertina & AS1668.1 Zone Pressurisation Proven To Work At Over 60Pa: Concertina fire curtain proven to work with AS1668.1 zone pressurisation system at over 60Pa.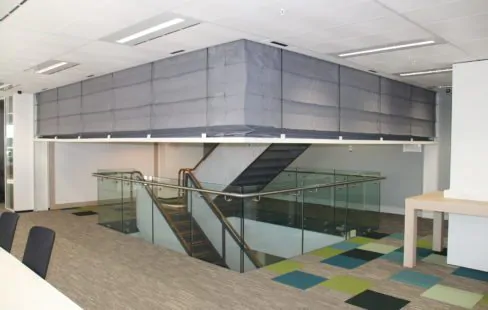 | | |
| --- | --- |
| Project: | TAL Fit Out, NSW |
| Architect: | Geyer |
| Fire Engineer: | Arup |
| Developer: | Shape Australia |
| Application: | Inter-tenancy Stair |
| Completion: | April 2013 |
It is becoming an accepted solution to use active fire curtains barriers to fire separate inter-tenancy stairs within office fit outs. Standard systems to date require lateral side guides to retain the fabric curtain edges to prevent integrity failure and to work in combination with AS 1668.1 for zone smoke pressurisation systems.
The inter-tenancy stair for the TAL fit out required fire separation from levels 10 – 14.
Greene Fire proved FireMaster® Concertina™ active fire curtain barriers to suit the design constraints across 5 floors in both 'L' and 'U' shaped configurations. Standard systems would have required supporting columns/ posts to interface with whilst turning the junctions in the corner positions. The installed system removed this standard requirement, saving costs and increasing visibility. Where the system connected back to the existing fire rated walls the unique, tested, side retention system was incorporated.
The AS1668.1 compliant zone pressurisation system was proven to achieve the minimum 20Pa pressure differential on all floors and was even proven working as high as 60Pa across the face of the fire curtain barrier, which is 3 times as high as when tested for fire-resistance.
Again, Greene Fire's unique obstruction sensing system was incorporated to monitor the area underneath its vertical path of travel whereby local voice notification will annunciate if obstructed for longer than 3 minutes. This was combined with flashing light beacons as well as specific signage adjacent to each.
Key Benefits For This Project:
Fully tested and compliant 2 hour rated system
Proven to work in conjunction with a compliant AS 1668.1 zone pressurisation system at elevated pressure differential in excess of 60Pa
Fast manufacture, delivery, installation and commissioning time – 4 months from order
Completely clear and open area underneath the path of travel eliminating the need for traditional side guides at each corner junction and effectively reduce costs
Complete product concealed in compact head box mounted above the ceiling line, with bottom tray ceiling integration with unique obstruction sensing system
Sydney
Contact Our Sydney Office For: NSW, ACT, QLD, NZ, International
Melbourne
Contact Our Melbourne Office For: VIC, SA, TAS, WA, NT