WHAT ARE BUSHFIRE PROTECTION MEASURES?
Due to the high risks associated with living in a bushfire prone area, building requirements have been designed to ensure your maximum safety in the event of a fire. These requirements vary dependent on your bushfire attack level (BAL).
What is BAL?
BAL stands for 'bushfire attack level', it is used to determine the appropriate level of protection needed relative to the likelihood of a bushfire attack.
BAL is determined by knowing 4 things:
Type of vegetation surrounding the property

Slope of vegetation

Fire Danger Index (FDI)

The distance of the vegetation from the property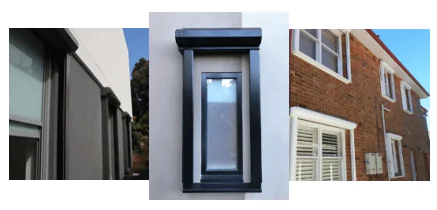 HOW DOES THE FIREMASTER FZ BUSHFIRE SHUTTER WORK?
The shutter is concealed in a compact headbox until it is deployed. The boxing can be hidden or left exposed as per your design. The headbox can also be powder coated to the desired colour to ensure seamless application. Our shutter is compact and capable of protecting any standard window or door. The FireMaster FZ flamezone bushfire shutter has a simple deployment by the press of a button. The curtain is deployed with by a gravity failsafe, ensuring that the curtain will always deploy even in the event of a power outage. Once closed the bushfire shutter will stop fire getting into your home. In the event of a bushfire, the protective equipment are often needed to be replaced. This can be extremely expensive when replacing fire rated windows. Our FireMaster FZ only requires the fabric to be replaced in the event of a bushfire. This greatly reduces costs and removing that stress when a bushfire has occurred.
Learn More
For Further Reference please read the documents provided below. If you wish to obtain further information regarding our Fire Attenuation Screens, please contact us at (02) 9526 3100, or email us at sales@greenefire.com.au. Alternatively, you can speak to us in person at Greene Fire Pty Limited, Level 2 381 Port Hacking Road Caringbah, NSW 2233
Benefits
Designed to comply with AS3959
Seamless design integration
Bushfire protection up to BAL-40 & BAL -FZ
Concealed in a small compact headbox above your window
Suitable for all windows or doors
Designed to span multiple windows or large sized windows
Simple deployment by key switch