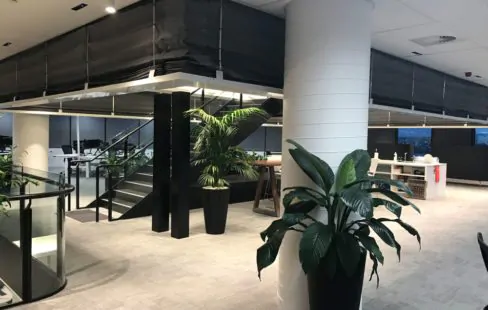 Project Summary:
Protecting Inter Tenancy Stair With Concertina Fire Curtain: Greene Fire's FireMaster Concertina is used to connect four interconnecting floors in a new state of the art office development.
Builder: Probuild
Fitout: Shape Group/span> Architect: Bates Smart Architects Fire Engineer: Norman Disney and Young Sector: Office Application: Stairs
Technical Issue
Vicinity are one of Australia's leading retail property groups and own over $14 billion of retail assets including The Emporium, Chadstone shopping centre and The Glen.
The new Vicinity Tower is in the heart of Victoria's most well-established suburbs and is a nine storey office building delivering new commercial floor plates of approximately 1,500?sqm plus restaurant space.
To create a sense of openness and to allow occupants to move freely around the building, four floors are connected together with one stair, however as the building code allows no more than 2 interconnected floors, the stairs on one level must be compartmenting in the event of a fire.
Greene Fire Solution
The internal Level 3 stair was fire separated with a FireMaster® Concertina™ Curtain to allow level two though to level four to be connected. As the building code states that no there can be no more than 2 interconnected floors, level 3 was compartmentated using a guideless concertina fire curtain with flush ceiling mounted obstruction sensors, light warning and voice warning alarms.
The FireMaster® Concertina™ Curtain was suspended from the soffit and installed flush with the ceiling with a fire rated was used baffle installed above the curtain headbox creating a continuous fire separation barrier between the floor slabs as required under BCA clause C3.12 and C3.15.
Red-light warning strobes, located on both sides of the curtain will activate until the curtain is in the fully deployed position & continue to operate until the curtain is reset. There is also a voice warning alarm stating, 'fire curtain descending' whenever the curtains are deploying.
Flush mounted obstruction warning sensors are fixed to the ceiling and notifies of any obstruction left underneath the curtain for more than 5 minutes. The voice warning is used to notify of any obstructions, announcing 'Warning, please remove obstruction'.
As an additional safe guard, an emergency retract button is located on the inside of the enclosed curtain which, when depressed, will raise the curtain for a set time for emergency evacuation. The curtain will then automatically descend to the floor as intended.
Key Benefits For This Project:
FireMaster Concertina is a fire curtain that protects without the need for corner posts or side guides giving architects, consultants and specifiers a whole new way to approach building design.
One simple control panel with an internal battery backup system controls the operation of the curtain. Simple design means that the occupants can carry out their own monthly routine testing.
The FireMaster® Concertina™ offers up to 4 hour fire integrity and can be equipped with obstruction sensors, light warning, voice warning, split drop delay, emergency retract buttons and battery back up system.
Sydney
Contact Our Sydney Office For: NSW, ACT, QLD, NZ, International
Melbourne
Contact Our Melbourne Office For: VIC, SA, TAS, WA, NT