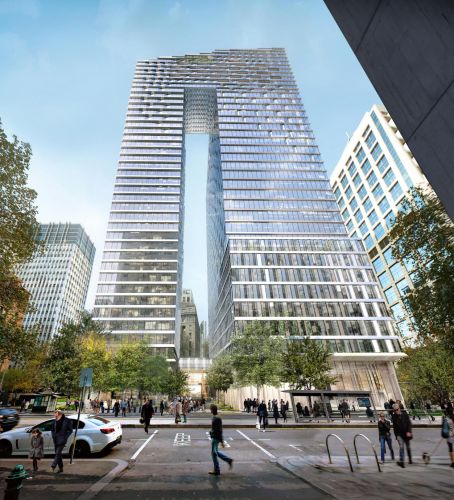 Project Summary:
Collins Arch, VIC – The FireMaster Concertina was used to provide insulated fire protection for multiple interconnecting staircases at the New York inspired Collins Arch in Melbourne, VIC
Project: Collins Arch, VIC
Builder: Multiplex
Architect: Woods Bagot
Application: Multi-level fire compartmentalisation
What Is The Client Looking For?
The New York inspired Collins Arch is located in the heart of Melbourne at 433-455 Collins Street. Integrating luxury residences and premium commercial offices above Melbourne's first 5-star W Hotel, Collins Arch truly is a world-class destination. Nicknamed the "Pantscraper", this iconic building is the work of Multiplex and will be open to the public as of 2020.
Within the building itself, W Hotel is the most notable tenant. Pre-sale of the hotel to Japan's Daisho group of more than $200 million is one of Melbourne's largest single hotel transactions. Sporting 15 levels of 294 hotel rooms and amenities, the hotel is a global symbol of style and luxury. Also amongst the tenants of Collins Arch is law firm Minter Ellison. Occupying levels 19-22, this top-tier firm was one of the first few companies to choose Collins Arch as their new home. A close distance between courtrooms and public transport with gym facilities and food outlets, this prime location is extremely desirable. The fit out for Minter Ellison is being orchestrated by Build Corp.
The two towers that make Collins Arch are connected at the top few levels with a bridge thus creating the arch shape for its name. A modern skyscraper that looks as if it had been plucked straight out of New York, this building proves Melbourne is a 21st Century city. The architecture for Collins Arch was a joint effort by CBUS Property Development and Woods Bagot with help from NYC-based SHoP Architects.
The Problem?
With so many guests filling the rooms of the W Hotel, extra precautions must be met in the event of a fire. The different sections of the building must be sectioned off to contain any threat while also allowing more people to egress safely.
As is often favoured in new office development, Minter Ellison has connected their floors with a spiral staircase. Unfortunately, having more than two interconnecting floors without a barrier is against fire safety codes.
By utilising an interconnecting staircase you are enabling the possibility for fire and smoke to quickly spread between levels. Without adequate fire and smoke protection,this can cause catastrophic damage to your building and occupants.
How Did We Help?
To reduce the spread of fire through the building, a fire curtain barrier may be used. Our FireMaster® Fire Curtain has been used in the W Hotel levels of Collins Arch. The fire curtain is the best option because it allows for the room to be open and deploys in the event of a fire to separate the egress path from any potential danger acting as an invisible 2-hour fire wall.
When multiple floors are connected without separation, it is easy for smoke and fire to spread. In order to prevent this and to meet BCA code, a FireMaster® Plus Concertina™ was incorporated into the design.
These particular curtains use our FireMaster® Plus material which is equipped with intumescent coating. The Plus material is more beneficial in high capacity public buildings like Collins Arch due to the low radiant heat transmission on the non-fire side. This allows people the ability to walk closer to the curtain without feeling the heat of fire from the other side, which also allows for more people to evacuate safely. Concertina curtains protect without the need for corner posts giving architects, consultants and specifiers a whole new way to approach buildings design. The FireMaster® Concertina™ offers up to 4-hour fire integrity using a revolutionary, tested folding system which can form almost any shape. The complete assembly of our FireMaster® Concertina™ remains concealed in the ceiling space until it is required to deploy in a fire event.
The FireMaster® Concertina™ will remain retracted within its head box until it is automatically activated by the fire alarm signal. Once activated it will completely close the opening, creating a fire and smoke compartment. Deployment is 'fail safe' by gravity at a controlled speed of approximately 0.1m/s. These curtains are also equipped with a split-drop delay. This delay allows for people to safely egress under the curtain during alarm before the curtain completely drops.
By installing fully enclosed fire curtains around the inter tenancy stairs, Minter Ellison was able to have a total of six interconnecting floors rather than the BCA prescribed two.
Sydney
Contact Our Sydney Office For: NSW, ACT, QLD, NZ, International
Melbourne
Contact Our Melbourne Office For: VIC, SA, TAS, WA, NT