Fire Rating
ResQ-Window™ can withstand temperatures in excess of 1000oC with 2 hours integrity (E120) and compliant to BS 8524-1. The curtain with a vision panel is designed for:
Escape routes incorporating doorways and corridors
Lift openings and lobbies
Areas where Fire Marshals and the Fire and Rescue Service may need to assess prior to entry
BS 9999 and Approved Document B both reference the requirement and benefits of vision panels used in fire safety in occupied buildings.
The ResQ-Window™ can be positioned to allow a low and high level view through the curtain if required.
Fabric
The material used in the window is made from specialized high purity silica fabrics, extremely high purity silicone optical resins, and nano-particle silica opacifiers. These more sustainable materials provide non toxic gasses or surface flaming when exposed to fire.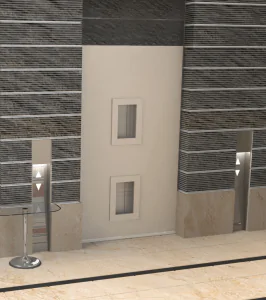 Benefits
See through a deployed curtain as a means of escape
Safely egress from lifts
Suitable for lift lobby muster points
First responder can clear a building faster
First responder can see the presence of an occupant on the other side of a curtain
First responder can see the presence of fire on the other side of a curtain
First responder can see the presence of smoke on the other side of a curtain
BS 8524-1 compliant
Learn More
For Further Reference please read the documents provided below. If you wish to obtain further information regarding our Fire and Smoke protection, please contact us at (02) 9526 3100, or email us at sales@greenefire.com.au. Alternatively, you can speak to us in person at Greene Fire Pty Limited, Unit 2, 7-11 Parraweena Road Taren Point, NSW 2229